If you want an instantly fun experience, then get the Bananagrams fast and fun game. This word game has a very addictive appeal to both kids and adults.
Throughout the ages, word games have been fun for both the young an old. And Bananagrams are the fast and fun word games of the modern era. They are a lot of fun for the kids and the adults can have fun playing along with the kids.
Fun Games Without Boards
Bananagrams require no pencil or paper. All you need is a table. A hand can be played in as little as five minutes.
No scores to keep and no scoring utensils needed. No waiting on someone else to make up his or her mind, every player can move at their own pace.
It is easy to learn and mysteriously fun to play.
Bananagrams is a portable game which makes them great for travel especially during the Christmas season. Just grab the pouch and go.
Family Bananagrams Game
Each pouch contains 144 tiles, referred to as the "BUNCH". Based on the number of players, each player takes a certain number of tiles. Upon one of the players saying "SPLIT" all players turn their own tiles up and proceed to form their own collection of connecting and intersecting words.
The words that they create may be horizontal or vertical, reading left to right and can rearrange their own words as often as they want. Players play at the same time, independently of each other and do not take turns.
Often referred to as the 'banana game' for short, bananagrams come in a single or two set games. They are used to help children boost their word power in schools and summer programs. If your child's school doesn't already have a number of sets of this word game, then it would make a great item to contribute to the school.
Portable Toys & Games
Bananagrams gets its name from the banana-shaped bag that holds the tiles and makes it so easy to take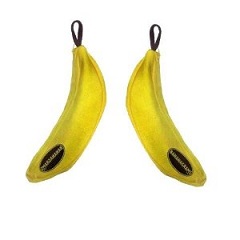 wherever you go. This easy, on the go feature is what makes it such a popular christmas gift or all year round. It can fill your children's time in the car, while waiting in resturants, at grandmothers or out from under your feet at home. It is also a great way to entertain family and friends after dinner or if you just need a break for a quick witted challenge.
Another great place to play this game is while waiting in the airport. It packs up quickly and doesn't require a lot of space to play.
Bananagrams game is engaging for all ages and is built for 2 to 8 players. But, don't forget the 2 set games if you have a need for more players.
If you like scrabble, but get dragged down by Slow Jack (who takes 15-20 minutes for each turn) or Johnny Dictionary (who has to look up just one more word) then you will love this word game. You are rewarded for speed and flexibilty in making your own crossword. You can start over from scratch or just change out a letter or two, but don't get caught with spare pieces when your opponent goes out.
This one really qualifies as one of those fun learning games for kids. It is truly one of those addictive games; but in a good way. It is rated as one of the top 10 best travel games.
Games For Elderly People To Play
This is a great game for the elderly as well. It is an easy game to carry to regular get together places. Just stick it in your purse or sewing bag and go. It is not only fun to play it helps to keep the mind alert as well.
Because it doesn't take up a lot of space it is a great gift for someone in a nursing home or retirement home environment. Playing Bananagrams together is a good way to bring residents together for more interaction.
It is also a good activity for those who visit with elderly people in a nursing home or retirement home. It is something that even the kids can do with grandma or grandpa and be entertaining for all.
We have found that a lot of handicapped people(depending on their handicap) like the Bananagrams game. It gives them something to do with their friends other than just watching TV. It is also a game where they can compete with their friends on an equal ground.
Game Gift Ideas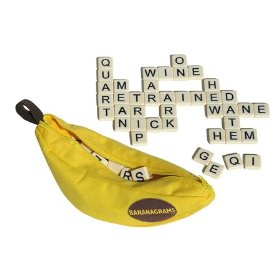 These make a great gift for Womens and Childrens homeless shelters. These are people who don't have a place to store a lot of material things, yet you want to help give the children some happy moments in their day. Because the Bananagrams Banana pouch is so easy to store and the game can be so much fun for the children it makes a nice little inexpensive gift for these type organizations.
It is also a game that can provide a lot of fun year round so no need to wait until Christmas to give a few copies to friends, shelters, retirement homes, as a birthday gift or to your child's school or daycare.
This is also a very nice gift for the Angel Tree campaigns. It is educational, fun, affordable and easy to deliver Christmas word games.
Spanish Word Game Bananagrams

There is also a Spanish version of Bananagrams. If your primary language is Spanish then you will most likely prefer the Spanish Bananagrams game. It is the classic bananagrams with spanish alphabet letters.
If you or your child are trying to learn Spanish then this is a fun way to practice the language.
Where to Buy Bananagrams
Bananagrams is available online at Ebay.com. So, make this one of your Year Round Gifts today. Don't be caught during the holidays with "Sold Out". If you find Ebay is sold out, then try Overstock or Walmart.
---
Other Sites That You May Be Interested In
Cute and Sylish Baby Car Seat Covers
If you have a baby car seat that needs freshing up then check out these stylish, colorful and trendy baby car seat covers.
New Baby Car Seats
Maybe you just need a whole new baby car seat. If so, check out these selections.
Great Little Mini Portable Washers
If you are traveling, camping or just living in a small space then you will find one of these little mini portable washers very helpful.